Access Kenya is debateably the face of Kenyan internet services. It recently launched an online traffic camera portal where road users can view real-time updates.The AccessKenya Group offers this product free via their
home
 portal.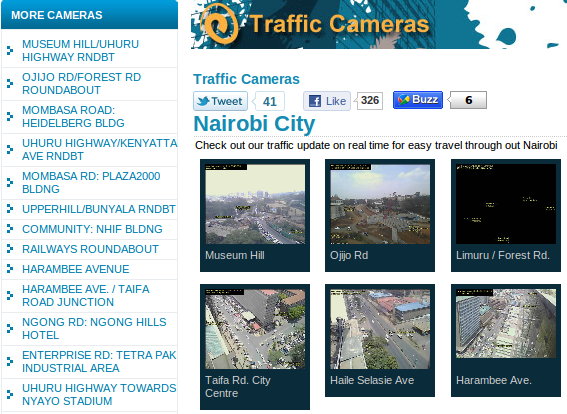 traffic camera internet views
These
Access Kenya
webcams capture real-time traffic feeds and relay them online. The AccessKenya Group is interested in giving the commuter and driver (road users basically) an avenue through which they can get to choose traffic routes that can save them of the usual Nairobi hustle that caused by traffic jams. It has cameras in key areas of Nairobi and Mombasa, with which you can view traffic cameras. Also, the internet road traffic portal has a handy Google maps feature (
check out here
) where you can pinpoint different locations. Kenyan radio stations have been doing a good job giving road-users traffic updates via KDN cameras, but AccessKenya Group as done an excellent job giving it to them at the touch of a button. This innovation comes at a time ripe for Kenya, promulgation and all. When
Kenyan TV Programmes
now get all their stuff uploaded on youtube. When
Kalasha Awards
are aired online in real-time. When
Churchill Live content
gets digital. When telephone network companies are now
preferred Internet Service
Providers. When Kenyan Film gets
The First Grader
.
ACCESS KENYA TRAFFIC CAMERAS
These traffic feeds involve Internet Protocol (IP) cameras that continuously captures traffic movement and transmit the images through the Access Kenya portal, live and in real time. Access Kenya has customized the portal and the updates can be accessed via mobile phone.
"There was a lot of interest generated by the traffic cameras when we showcased them at this year's AccessKenya Africa Concours d'Elegance. The launch of these traffic cameras goes on to further affirm the AccessKenya Group as an innovator and as the data and IT expert in Kenya."

~AccessKenya Group Managing Director, Jonathan Somen.