Shopping for computers and computer accessories in Kenya can be tedious if you do not know where to get the great quality for the best prices. There are many computer and electronic shops all over Nairobi with prices, for the same product, as varied as the shops themselves.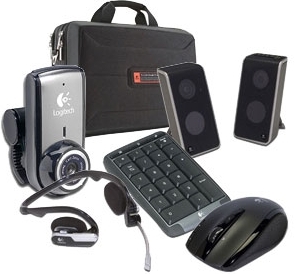 Computer Accessories in Nairobi [Shopping]
Buying Computer Accessories in Nairobi
Whether you are looking for a cable, battery, adapter, flash disk or removable hard disk, switches or hubs, CRT or TFT screen, software (e.g Anti-Virus, Office..), laptop or desktop computer, headphones or speakers, printers and/or other accessories; it is important you know the best places to look. When it comes to buying electronics, quality supersedes anything else.
Factors to Consider When Buying Computer Parts/Electronics
When buying a computer, or any part whatsoever, there are things to factor in to get the best products:
Quality: High quality products are very important when it comes to electronics, mostly since each piece is expensive and important. There are many computer shops in Nairobi only out to make an easy shilling, using second hand products, fakes, or even cleverly sell the wrong thing altogether.
Prices: My golden rule when it comes to electronics is "If I can bargain, am not at the right store". With good pricing, most shops stick at a single price tag. The secret is getting a good price for a quality product. With most of the shops in this post, you get just that.
Research the Product: Go online and find out what the best model of the product is, then visit Kenyan company website to check out what the prices are. This information is vital before going out to look for something.
Guarantee and Reputation: The best computer shops offers products with warranty and not just on paper. Many a shop in Nairobi will not offer warranty or even blame the customer for any errors in the products. It is advisable to go for reputable stores/ shops.
Stock/ Availabity: This, basically, is about how big is the shop. It is not pleasant to run around town for each different piece of accessory. A good computer shop ought to have most products under one roof.
Customer Care/ Staff: Support is essential when buying any electronics. Any good shop has competent staff that can explain and help test out different products.
1. Arctic Computer Shop
Arctic Computer Shop is among the best shopping solutions in Nairobi. Some of the
best prices and great customer service
,
Arctic Computer Shop
[at
Kenwood House
] is a Must Check-Out whenever you need to buy any piece of electronics.
2. Starcomss Computer Services
Starcomms Computer Services is 
one of my favorites
. Anyway, like Bestell and Arctic (2 and 3 below), they have great prices for quality products. 
Starcomms Computer Services
 is another electronics place to check out before making any computer-related purchase decision.
3. Bestell Computers Limited
Located at
Kimathi House
,
Bestell Computers
has competitive prices for quality of products.
These three computer stores are the best places to check out before buying anything you need. Since they are close, you could just pop in each, compare products, prices and get yourself the right buy.
4. PC World
PC World has the
latest imports
from
iPads, tablets and other gadgets
to the latest releases of computers and related accessories. Located at PC World House,
Mpaka Road
, Westlands,
PC World
is one of the more popular stores for great products, the prices are, however, high.
5. Ebrahim Electronics Ltd
Also worth mentioning is Ebrahim Electronics. Excellent pricing and customer service, Ebrahim's is, however, are grossly expensive. Most of their products are twice or thrice the prices at Bestell and Arctic Computer Shops. Though it is
mostly overrated
, it's helpful in
checking out what's new
and comparing electronics.
Am sure there are many other good computer/electronics spots around Nairobi. You can leave a comment on spots you liked, didn't like or just think should be in this list.
WHERE YOU SHOULD NEVER BUY FROM
The number of unscrupulous electronics dealers in Nairobi by far outnumbers the good. It is good to have an idea where you should never go to for your new accessories and gadgets
:
Luthuli Avenue: Luthuli Avenue and it's surroundings is home to lots of electronics shops, mostly dealing in handset products. It is a favorite for its cheap China phones and bargain-able electronics, anyway; don't go there.
Stalls: Any stall anywhere in town is a big NO-NO when purchasing electronics. They are all over the town, with attractive stickers " FLASH DISK - Ksh. 900/=" and the likes. Never buy these flash disks. They mostly where faulty pieces off manufacturers; do not work or are corrupted - and nearly never have warranty.
Revlon Professional Plaza: Has some good wholesale electronics stores but the retail shops are nothing short of con-shops. One such is one "Super Dynamic Technology" shop among others, dealing in mostly bogus products.
No Guarantee: Always ask for a warranty.
Shopping for electronics mostly needs a
pro
, but being one is not that hard. Just follow the tips in this post and you'll get value for your money, anytime. Anyhow, later.