Out of 15 of the best East Africa had to offer for this year's
Tusker Project Fame
, Davis Hillary Ntare emerges cream of the crop. Second time's the charm, it seems, for the brilliant performer from Uganda.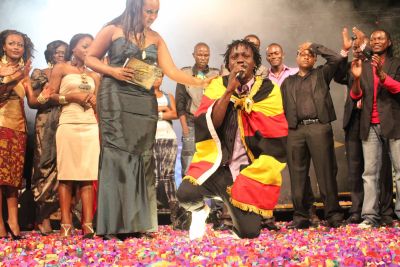 Davis wins Tusker Project Fame 4
DAVIS NTARE
After failing to make the cut for last year's academy, the Davis success is somewhat out of the movies, where the underdog gets to claim the day. The 25 year old from Kampala proved to be an amazing performer on stage, taking on MJ's Billie Jean dance hit for his final performance, and did not disappoint. He also perfomed alongside bongo great Matonya "Anita" and "Vaileti", where he spectacularly blended  his signature into the tracks. The brilliant performer had East Africa voting  and won first place; he was overwhelmed by emotion and literally in tears of joy. Davis wins 5 Million Kenya shillings [UG shillings 142,990,654.21], a Gallo Records contracts, a Resolution Health Premier Plus Medical Cover, a study bursary from Maranatha and so much more.
Davis is a multi-talented individual with an interest in music production and performance, abstract art, photography and song writing. Soundtrack is the consummate altruist and uses his art and Music to reach out to people in a positive way. He has a diverse musical background, including playing the trumpet in a brass band back home, doing background vocals for Maurice Kirya's shows and singing in the school and church choirs. ~ TuskerProjectFame.com
southern sudan
Tusker Project Fame 4
welcomed Southern Sudan for the first time. They did not disappoint, Kounck Denk, 24, (
K-Denk
) was the first ever rapper on TPF and an instant crowd favourite. A hip-hop hit on stage, and a comic relief off it. Then there was the astounding vocal sensation that was Paleki Matthew Obur, 22.
Paleki
was one of the
most powerful voices
to grace the Tusker Project Fame Academy, and proved, in her words "There is talent in Southern Sudan."
tanzania
This year's Tanzanian contestants offered much more talent and vocal presence in the house as compared to the preceding Tusker Project Fame TZ contestants. Starting with Leah A. Mwambogela, 28, the mom with a golden voice. Leah's was a amazing voice, and one of the most heartfelt farewell performances the Academy has ever had. Then there was Aneth Kushaba, 25. Aneth, the outspoken of this year's contestants, was a great singer testament to which was her being on probation only once.
Debateably one of the best stage performers in the Academy. The man with a tourist attraction that is Kilimanjaro, his belly. Msechu, 22, is an adept keyboardist and guitarist, and has loved music his whole life. He started his musical career at 7 singing in church with his dad and grew on in this passion. Msechu saw inspiration in Kidum, even more so due to the close vocal range they shared. During the Tusker Project Fame 4 Final gala, Msechu shared the stage with Kidum who expressed pride in the young man.  They stole the night with an exhilirating "Kichuna" performance that saw the TPF dome explode in applause. Msechu was this year's Tusker Project Fame Runner-up, second to Davis.
kenya
Kenya saw four contestants into this year's Academy. Juvenalis Ochieng, 24, from Nakuru, was the first Kenyan to leave the Academy. Prudence Kibaya, 22, was the great voice from Mombasa and left the Academy a little too soon. With such brilliant vocals, East Africa hasn't heard the last of Prudence.
From her first performance to her last, her confidence was captivating and voice breathtaking. Amileena, 22, always seemed at home on the TPF stage. Amileena is great singer, and a extraordinary entertainer. With complex choreography routines, her performances were at times at par with Davis and Msechu. She was the only lady left at the Tusker Project Fame Finals. Amileena performed a beautiful duet with teacher and afro-soul diva Atemi Oyungu, "Imenibamba sana", at the final gala.
A brilliant singer from day one, Stevo was a crowd favourite. South C's Stephen, 26, used to sing at weddings and funerals. The accountant's voice was one of the most memorable in the academy. On the final gala, Stevo pulled off a gripping "Kisumu 100"
 alongside benga icon Suzanna Owiyo.
rwanda
Rwanda's Alpha won
Tusker Project Fame 3
and three contestants joined TPF4 hoping to follow in his footsteps. Elizabeth
Gaga
had many heads turning, and soon Davis was seen, more often than not, in this lady's company. Gilbert
Gabiro
, 21,was not a
judge favourite
. Ian Mbugua, severally made that clear enough, and though he his voice seemed lacking, fans kept the young man in the academy for quite a while. However, when it  comes to persistence none matches up to Atete Gaelle.
Gaelle
,
the princess of probation
had quite a run, hers was a story quite identical to Ngangalito's. Atete Gaelle, 21, was in Ian's words, "gorgeous", and evidently, the fans agreed - eventually she was evicted by the judges.
uganda
Uganda's Thomas Kirya (
Tom
), 32, made history by being the first contestant to be evicted without probation and by the teachers, no less.
Rachel
, however, was something else. Rachel Namubiro, 26, was a stunning singer. Rachel was more than once the highlight of the night, and went on probation only once. And of course, Davis Ntare, the Ugandan that claimed this year's coveted TPF 1st Place. [Images Courtesy of
Tuskerprojectfame.com
]