UoGames,
University of Games
, is a Kenyan start-up that deals with game development for mobile, the web and PC. Election Thief is UoGames' first game release.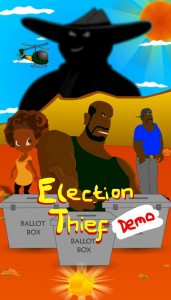 Election Thief - Catch the thief!
Election Thief is a game that involves chasing down, as the name implies, an election thief. The main character is Omu, a voter that goes to vote and catches a bad-guy stealing ballot papers. Controlling Omu, the gamer has to catch the Election Thief, by chasing him through a variety of entertaining game levels.
The Game:
Election Thief has 15 chapters with a total of 75 levels with exciting and challenging puzzles to solve in each chapter. From fighting with the election thief's hired goons, dodging machetes, stones and spears to slippery floors and razor wires and bonus unlockable levels during gameplay. With simple and easy gameplay, as soon as you get started, you'll be in for a ride. It also provides for a practice mode for honing your skills for when levels get too challenging. Once you catch the thief, there's a dramatic ending to the game you'll not want to miss. The game has social media integration allowing the player to post scores and achievements on Facebook or Twitter to challenge friends.
Election Thief - Video Walkthrough (Youtube)
Election Thief Control Omu, the ordinary citizen, to track down and catch the Election Thief. Jump from platform to platform in pursuit of the fleeing bad-guy who has stolen the votes during an election. via UoGames
Download Election Thief
Here's a free game demo you can download a play the game on your android smartphone or tablet.
Click here to download
 (Android .apk via
UoGames
). You can also test out an online version of the game
here
, though it's harder to control than the android version.
Conclusion
Considering this is the first release by UoGames, I think the concept and way it was developed was fantastic. The only issue I had was the artwork and considering it is a game, not a cartoon, it's not a deal-breaker. This was a good job by UoGames and, personally, am waiting to see what they release next.