Mozilla Firefox 4 is out. It is released amid a
browser war
like nothing the industry as seen since Firefox 3's release. Google Chrome released a fast and neat looking v10, and the Firefox's mega-rivals Internet Explorer came out with their best release yet:
Internet Explorer 9
.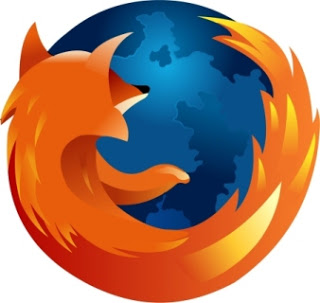 Firefox 4 - Full Review
The new version of Firefox has had a huge buzz (#fx4), and after checking out its new features, is quite deserving. In this review, we'll look at they new features as seen on the Mozilla
Firefox features page
.
Bringing together all kinds of awesomeness to make browsing better for you. Download your copy: Mozilla Firefox 4

Firefox 4: All the New Features
1. Easy Browsing
The Firefox look has been redesigned for a better user experience. The first thing you'll notice is how different the browser frame has become. They've gotten rid of the Menu bar, leaving enough room to spread the tabs and add more customizations, as you'll see below:
Friendly Address Bar
The address bar has been better optimized to search through your favorite sites, history and open tabs. You no longer have to type in long urls, just type in a piece, and it autocompletes. They are calling this the "Awesome Bar". It would have been much more awesome if it wasn't the very same thing in Chrome 10 and IE9. The only let-down in IE9 is that it comes with the default of Bing (Check out how to
use Google as the search engine in Internet Explorer 9
). Anyway, it's a welcome addition to the Firefox.
An Efficient Interface
Firefox 4 doesn't just look nice, it works even better. All the usual icons in the browser have been scraped an the
tabs
are left neatly on top of the "
Awesome Bar
". Just like in IE9 and Chrome, the
Reload and Stop
have been combine into a one button. An add on Manager, opens up in a new tab, hence you can install and manage your add-ons without ever leaving your browser. The menu buttons that were on the top of the screen in previous versions are now in a glowing Firefox button on the top left of the browser. Check out this
video on the new interface
.
Tabs - New Firefox 4 Features
Paranoma: My personal favorite feature in Firefox. You can now organize your tabs in a brilliant method. An icon on the top right for "Group your tab" gives you the power to reduce the amount of clutter in your browser. It displays all your open pages in a slick interface. All you have to do is drag related tabs into one group (which you can even name), and Firefox will sort them out, so that they are arranged in separate window. It's really even more awesome than I've explained.
App Tabs: If you're using IE9, the your know what pinned tabs are, website shortcuts you pin on your taskbar for quick access. App Tabs is Firefox's version, your can pin tabs on the tab bar, permanenty.
Switch-to-Tab: A really useful if you've got a lot of tabs open. When you're typing a web url in the address bar, Firefox 4 checks whether you already have it open somewhere else and gives you the option for switching directly to that tab.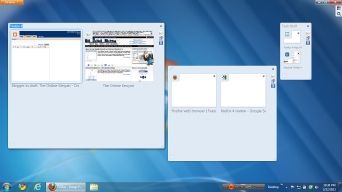 Firefox 4 Paranoma - Click on image to check it out
Manage Your Data in Firefox 4
Firefox Sync: The new Firefox comes with a synchronization feature. With a Firefox Sync account, you can securely access your Firefox history, bookmarks, tabs and passwords across your devices, be it mobile gadgets, tablets or your computer. All you will need to create an account is your email address. It's actually a 10 second procedure; sign-up, confirm you're not a robot (write something), then save your Sync code. The code is your security, you can email it to yourself to keep it safe.
Password Manager: Save your passwords for different accounts. You just have to enter your usernames and passwords and Firefox gives you a hand.
Form Complete: Firefox uses the data it already has on you to suggest information as you type into forms on various sites.
Easy Search: With a large array of search engines to choose from, Firefox is the best browse for getting that information fast. It also comes with optimized search suggestions, smart keywords, integrated web search and location aware browsing.
Session Restore: You can pick up where you left off, bringing back all open tabs.
Spell Checker: An in-built spell checker that works directly in your browser.
Watch Video: Firefox 4's New Features
Better Organization
Firefox 4 helps you keep track of your browsing. Be it recalling a cool site you visited a while back or just your favorite sites, there is something for each. Fx4 comes with;
one-click bookmarking, tags, library.
You can save sites to favorites just by clicking on the star in the address bar, save them using tags (e.g tech - Try it out with this site :) ), and browse your history and favorites in an archived library.
Firefox Tools
RSS Feed Reader: Yeah, it's not all that, but it's much better than what Chrome have, where the Feed url isn't displayed.
Download Manager: It's not really all that either, considering the way IE9 have pimped out their Download Manager. #comeonguys
Other: Search, Zoom and Offline Browsing
2. A Better Performing Browser
High Speed: From integrating Compartments and more efficiently managing JavaScript objects to supporting ECMAScript5 and building the brand new JägerMonkey JavaScript engine, Mozilla have worked to make this the most powerful Firefox ever.
Crash Protection: If or when a plugin crashes, for example adobe Flash crashes, it won't close Firefox, it'll just affect the page its own, and you can restart the plugin and reload the page.
3D Graphic: WebGL provides the development of visually appealing web apps and games for the browser
Hardware acceleration: Firefox 4 makes use of your computers graphics system to bring fluid video and graphics.
3. Firefox 4: Security and Privacy
Content Security in Fx4
Website ID: Firefox instantly checks the ID of different sites and displays them on clicking the favicon.
Anti-virus integration: Antivirus integrations makes use of your computers antivirus software to scan through downloads and malicious content.
Antiphishing: Firefox also works in checking fake and forgery sites.
Anti-Malware: Firefox also protects from virus and worms by recognizing attack websites and directing you from them.
Secure Connections: Firefox ensures further content security by connecting to secure https servers when available.
Privacy and Private Browsing in Firefox 4
Private Browsing: Wanna check your email in a cyber? Order something online? Not sure is the computer is safe? You can browse privately and get all your user data cleared when you're done.
Do Not Track: Lots of websites keep information on your clicks and browsing. You can tell Firefox to block these sites.
Forget This Site: If you want to delete a specific website's history from your computer. In Firefox 4 your can erase all trace of that one website.
Customized Security Settings: You can set your security settings. Be it Remember or forget history, cookies or passwords or clear cache automatically.
Parental Controls: You can apply parental downloads to prevent unwanted downloads and browsing.
4. Personalization
As compared to other browsers, Firefox 4 is really the user's browser. With the easiest and best ways to customize and create you own look:
Personas: Dress up your Firefox to your liking. With thousands of themes to choose from, the user can get exactly what s/he wants.
Add-ons: Thousands upon thousand of add-ons, the user often getting what they are looking for, and much more. An improved Add-On Manager is also another brilliant feature of Firefox 4.
Customizable Firefox: Style doesn't just stop at personas, with Fx4 you can edit your whole look and design at the touch (drag) of the mouse.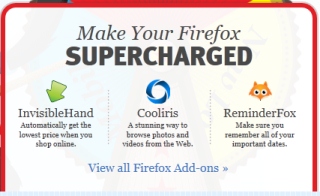 Firefox 4 - Awesome Add-Ons
5. Cutting Edge Technology
Firefox 4 incorporates the latest developments in browsing technologies. Fx4 has CSS3 support, a HTML5-ready parser, WebM and HD Video, Multi-touch Support (in Windows 7), a Web Console that lets the user peek under the hood of webpages.
6. Universal Access
Firefox supports a variety of fonts and languages. This and the fact that emphasizes on ease of accessibility and universal customization means no-one is left out of the Firefox experience.
7. It's a Non-Profit