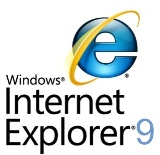 Internet Explorer 9 - Review
While one of its predecessor's (IE6) was a huge disappointment, the new Internet Explorer is a different story, getting all the right fixes and with speeds on par with Firefox 4 and Google Chrome 10. A much better way to explore the internet. It's, however, a let-down to the millions of XP users as it runs on only Windows 7 or Vista.
Internet Explorer 9 – 2.35M downloads in 24 hours
Internet Explorer 9 was downloaded an impressive 2.35 million times in the first 24 hrs of its release. That is 98,000 download per hour, 27 per second. This is over double the number of downloads [in 24 hours] for the beta version and four times the RC (Release Candidate). During the beta phase of Internet Explorer 9, it was downloaded a cool 40 million times, and the beta version constituted a 2% market share of Windows 7 computers. If this is surprising, wait till you here this; the different Internet Explorer versions still command over 60% of the browser market share.
INTERNET EXPLORER 9 – REVIEW
While Internet Explorer 9 resembles IE8, it's much more streamlined and has adopted a variety of features from Chrome and Firefox. Of all the various versions of Internet Explorer released, this is the force to reckon with for Firefox and Chrome.
Internet Explorer 9 – Features:
Faster Performance
IE9 has introduced hardware acceleration for graphics, text and video. IE9 taps into your computer's graphics card to use its processing power during browsing. This helps sites with graphics and video to load much faster an perform better. IE9 is now in the same speeds as Google Chrome.
HTML5 and CSS3 Support
Greatly improved CSS support and support for HTML5. Internet Explorer are now ahead of the game with the introduction of support of HTML5.
Faster Javascipt performance
IE9 has a new Javascript engine; which improves the performance of interactive web apps. Sites like Gmail and Facebook that are interactive will get a boost in speed.
Enhanced Privacy
IE9 also comes with an inbuilt anti-tracking feature. Once activated, it blocks certain companies from tracking your clicks. Read on all of
IE9's new privacy features
.
A Brand New Look
Internet  Explorer's new style is both good to look at and feature-filled. Exploring the internet is made much easier with neat customizations such as a combined search and address bar, more focus on websites, pinned sites, better new tab page among others.

IE9 - Explore the Internet in Style
Check out an in-depth Internet Explorer 9's brand New Features
Security
Internet Explorer 9 is one of the safest , if not the safest, browsers. Keeps your machine clean by keeping in check malware sites.
Internet Explorer 9 – Cons:
XP incompatibility
Even though the largest percentage of computers still use Windows XP[41%], the new version of Internet Explorer cannot run on XP. This is quite a disappointment to the millions of Microsoft clients still on the operating system. This is a Microsoft initiative to get users to use the browser that comes with their machine OS (that is Vista, Windows 7 – Details Below).
Website incompatibility
While it may now be able to handle HTML5 and CSS3, IE9 has issues with lots of websites, they do not load well. Internet Explorer, however counters this with a "Compatibility view" icon in the address bar (near reload).
Few Add-Ons and Extensions
This has been one of Internet Explorer's All-Time cons. The fact that there are few extensions available means that they user has no real customization freedom. While Chrome has gone and pimped out its Extension store, and Firefox being king when it comes to add-ons, IE9 is already losing in it's first days out.
Bing [Default Search]
IE Reputation
The problem is that so many of the "tech guys" online have such a low opinion of the browser, partially owing to its tortured history, that the reviews all end with something like, "It's not bad, but it's IE, so there's that." - Nicholas Deleon | CrunchGear.
Watch Video: Comparing Every Version of Internet Explorer
IE9 Automatic Update On Windows 7 and Vista
If you are running Windows 7 or Vista, don't bother looking for IE9, it'll come to you, if it hasn't already. While Windows 7 was shipped out with IE8 and Vista with IE7, IE9 will be pushed onto these operating systems as an "important Windows update". While this is a small step, it will really boost the number of IE users, considering Windows 7 is the fastest selling OS of all time – with 240m copies sold in its first year. These IE9 download numbers will certainly trump its first 24 hours.
Related Info:
Unlike other browser's Internet Explorer is integrated into Windows, so you'll have to restart you machine during installation.
The mobile version of Internet Explorer 9 is expected to launch for Windows Phone 7 later this year (with the Windows Phone 7 Mango update). The main difference between IE8 and IE9 on mobile is the better rendering quality and that the address bar will be at the bottom of the screen, closer to your thumbs.
There is talk around of Internet Explorer 10 previewing this April
By the way, did you know that Internet Explorer 6, 7, and 8 each control more market share than all Chrome versions combined!
Read Microsoft's IE9 Press Release: Microsoft Announces Global Availability of Internet Explorer 9