The KCPE 2014 Results were released by the Kenyan Education Cabinet Secretary Prof Jacob Kaimenyi on 29th December 2014 at Mitihani House.
How to Get KCPE Results
Kenya Certificate of Primary Education 2014 Results are accessible to candidates through the following methods:
SMS the candidate's index number to 22252
From 1st Jan 2015: Visit the KNEC Website at www.knec.ac.ke HERE
Go To:
KCSE 2014 Results and Analysis
KCPE 2014 Results Analysis
A total of
880,486 candidates
sat for the 2014 KCPE examinations, an increase from KCPE 2013 where 839,759 candidates sat for the exams. The examination was carried out in
24,260 examination centers
with 128,753 professionals contracted to facilitate the process. The candidates were examined in English (Objective and Composition), Kiswahili (Objective and Insha), Mathematics, Science, Social Studies and Religious Studies. Prof Kaimenyi stated that candidates with 200 marks and above (78%) were assured high school admission slots, with chances in polytechnics and vocational centers for the rest with advancement options to technical universities.
KCPE 2014 Performance
The performance of candidates in the KCPE 2014 was relatively similar to KCPE 2013, where students in 2014 with aggregate
marks of 251 and above were 436,814 (46.61%)
as compared to 417,483 (49.71%) in 2013. Only 5,584 candidates (0.63%) scored above 400 out of 500 marks. A majority of candidates (at around 54%) scored
201 - 300 marks
. Here's a breakdown of the aggregate scores: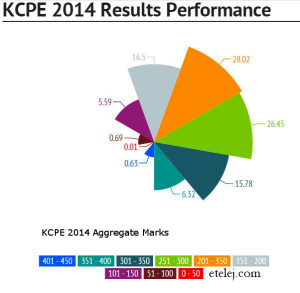 | Marks (Agg) | Percent. |
| --- | --- |
| 401 – 450 | 0.63% |
| 351 – 400 | 6.32% |
| 301 – 350 | 15.78% |
| 251 – 300 | 26.45% |
| 201 – 350 | 28.02% |
| 151 – 200 | 16.5% |
| 101 – 150 | 5.59% |
| 51 – 100 | 0.69% |
| 0 – 50 | 0.01% |
*Figures (Percentages) as announced by Prof Kaimenyi
School Ranking (Top/Bottom) - Abolished
The ranking of schools was abolished by the government in November 2014 in order to end unethical practises by teachers in the race to top spots.
Ranking of schools was abolished because demerits of ranking far out-way the merits of the same - Prof Kaimenyi
Prof Kaimenyi listed demerits of ranking of schools as;
KCPE and KCSE assess the product and not the process
Unscrupulous and unethical methods used by institutions aiming for top spots. For example weak students forced to repeat classes on flimsy reasons
Creates unnecessary competition among schools. Which leads to irregularities in order to win.
Not fair to compare schools. Schools have varying resources, management e.t.c.
Some schools maintain small classes; which is uneconomical and increases parent fees.
Selection of students starts very early. Some schools interview for pre-unit classes.
Many schools abandon non-examination subjects like Physical Education and Arts
Leads to ignoring of the concept of learning; encourages cramming and drilling
Negatively affects morale of teachers and students in poor ranking schools.
Politicians publicize ranking of schools
Schools engage in extra coaching of students (teaching during holidays, sundays, nights)
Gender Parity
KCPE 2014 noted a
6% increase of girls
(a consistent increase as with the past years). Of the total 880,486 candidates, 443,258 were boys(50.3%) and
437,288 were girls (49.7%)
. 23 out of the 47 counties had more girls than boys sitting for the exams, as compared to 18 counties in 2013. Counties with the highest gender parity in favor of boys were: Turkana (62% boys), Samburu (59% boys), Garissa (67% boys), Wajir (67% boys) and
Mandera (68% boys)
.
KCPE 2014 Special Needs Candidates
A total of
2,097 special needs candidates
sat for the KCPE in 2014. The highest number of special needs candidates where those with physical disabilities who were 695, while those with hearing impairment were 666. The number is an increase of 17% from 1,785 candidates who sat for the 2013 KCPE.
248 prisoners
also sat for the examination as well as
44 hospitalized candidates
.
KCPE 2014 Irregularities
1,702 candidates (0.19%) were involved
in one form or another of exam irregularities in the 2014 KCPE with a
majority (~99%) involved in collusion.
Involvement of candidates in irregularities is a reflection of decaying morals of our society today. It was disheartening to note that some teachers and students were involved in these irregularities. - Prof Kaimenyi
Kiswahili and English noted the highest number of irregularities, as they did in the past three years examinations. 15 out of the 47 counties did not record any irregularities.
7 counties that had no exam irregularities in 2013 and 2014
were; Taita Taveta, Tana River, Lamu, Nyandarua, Trans-Nzoia, Vihiga and Siaya.
---
KCPE and KCSE 2015 Registration
Registration for
KCSE
and
KCPE
2015 is currently ongoing and schools and candidates are advised to register early for those examinations.