The Kenya Certificate of Secondary Education (KCSE) results 2010 were officially released on Monday 28th February 2011. Prof. Sam Ongeri noted a general improvement across the country, as compared to the previous year.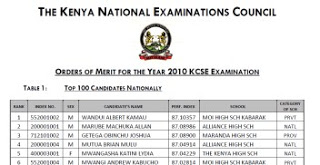 KCSE Results
Get Your KCSE Results
Visit Kenya National Examinations Council[KNEC] website, Click Here
 SMS  the candidate's index number to 5052. Send INDEXNO to 5052
KCSE 2010 RESULTS
A total number of 357,488 students registered for the KCSE 2010 exams, 20,084 more than to 2009's 337,404, in 6,004 examination centers as compared to 2009's 5,600. Candidates that scored C+ and above were 97,137 (27% of the candidates), as compared to 2009's 81,048. 30.39% of the male candidates and 23.17% of the female candidates scored C+ and above.
"Candidates who obtained grade D and above and are considered eligible for further training account for 87 per cent compared to 85 per cent in 2009," Sam Ongeri.
READ AND

DOWNLOAD

ALL REVELANT KCSE DOCUMENTS:
[Read directly on your browser or download as PDF!!]
Cancelled Results: Another KNEC Blunder
Music exam results of 1,423 candidates in 205 schools were
cancelled and recalled
after the Kenya National Examinations Council released the wrong results. While seemingly minor, 9 Starehe Boys Centre students moved up to straight A's after the rectification of the blunder. It also cumulatively raised their [Starehe's] mean grade from 10.3383 to 10.35!
"Unfortunately, the dummy results were given out for Music by an officer who inadvertently packaged them instead of the validated ones." - Mr Paul Wasanga.
Question is: What are these
dummy results
and why does KNEC have them?
A reminder of KCSE 2007 when the examination council issued the wrong results for nearly all the schools. KNEC ended blamed the issue on a "computer error" and that was that. While a task force was established to investigate the 2007 blunder, nothing has come of it, much like what most Kenyan government task forces yield.
2010 Special circurmstances [as compared to 2009]
Students that took exam in Prison or Police Remand - 05 2010, compared to 11 in 2009 Students that took exam while in hospital – 169 2010, as compared to 144 in 2009 Special Needs: Blind –
61
2010, 53 in 2009; Low Vision –
1419
2010, 194 in 2009; Physically handicapped –
314
2010, 88 in 2009; Mentally handicapped –
08
2010, 07 in 2009; Hearing Impaired –
104
2010, 77 in 2009
Cheating
The number of students involved in cheating dropped significantly to 534 (0.14 per cent) from 1,171 (0.35 per cent) in 2009.
"This year (2010) recorded the lowest number of irregularities in the past 10 years…it is important that we continue with the war to stamp cheating," Ongeri said.