In order to run Snaptu on your computer, you'll need to download two things;
1.)
a software that will run Snaptu (an emulator) on the PC, and
2.)
the Snaptu (the setup file). Snaptu has one of the best facebook and twitter clients and a snazzy feed pick-up. It's also a very
wise option if you have a slow internet connection
on your PC.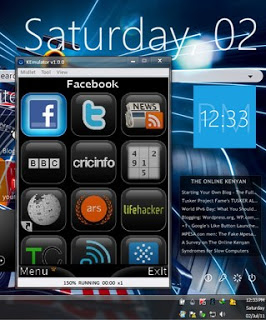 Snaptu on Windows computer
How To Use Snaptu on Your Computer (Windows)
The first thing you'll need is a J2ME (mobile Java) Emulator. This emulator, simply, creates the mobile environment in which Snaptu can run.
1. Getting KEmulator - the J2ME (mobile Java) Emulator
This is one of the best mobile java emulators out there. The KEmulator is less than 4 MB and does nt need installation to run. You can
google for a copy
, or (
a better alternative
) download my copy of the
KEmulator v1 here
.
Then you'll need the Snaptu software, which you can get at m.snaptu.com. However, you can't download Snaptu via your computer, unless.. you open the mobile site. You can access it via opera mini for PC.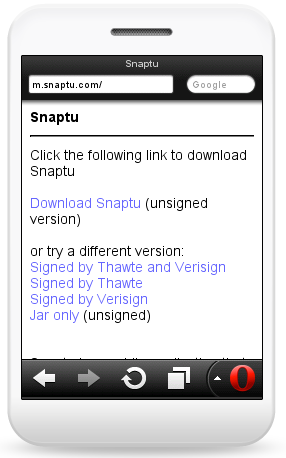 downloading snaptu using Opera Mini emulator
2. Running Opera Mini on Your Computer - Downloading Snaptu
Opera.com offers a mobile emulator with which you can access their mobile browsers. Visit
http://www.opera.com/mobile/demo/
(on any browser) and wait for the simulator to run, or
http://www.opera.com/mobile/demo/?ver=4
for Opera Mini 4 (which I favor).
On the Opera Mini emulator, type in m.snaptu.com
A download page version will appear with various versions to download.
IMPORTANT: Click on "Jar Only" version.
Proceed to download on your computer.
You can move the downloaded snaptu.jar to a folder of your choice on your PC.
Running Snaptu via KEmulator
Open the KEmulator you downloaded (in 1 above), and extract it to a folder somewhere in your computer.
Open the KEmulator and look for a file labelled KEmulator.exe. Run KEmulator.exe.
On the KEmulator, click on Midlet then select Load jar
Browse for the file snaptu.jar which you downloaded (in 2 above)
The program disappears then reappears as Snaptu. Congratulations!
You can click on the + to zoom the program, or even enable a keypad via the Tool menu.