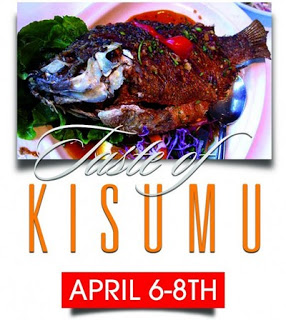 Taste of Kisumu
Taste of Kisumu is a 3 day festival that will showcase the diverse culinary culture of Kisumu. The Taste of Kisumu event will feature a wide variety of restaurants, food and entertainment and hopes to give attendees an unforgettable festival of family fun. The event's organizers hope, in the years to come, for the event to be "
the largest food festival in Africa".
Dates: —, 2012 Event Type:
Festival
Tickets (on the Day of the Event):
Regular: Ksh500 VIP: Ksh1000 (Incl. Wine Tasting Voucher) Students: Ksh 300 Kids (Under 14 years): Ksh 100 only.
Get CHEAPER PRE-SALE TICKETS
The expected results from the festival include improving Tourism prospects in the region. Festivals are just as much a tourist attraction, both locally and internationally as monuments or geographical wonders. The taste of Chicago for example, brings in over 3.5 million attendees in a span of one week. In the long run, expected growth from this annual event will create a vast seasonal employment opportunity for many of the Kisumu residents including but not limited to security, entertainment, cleaning, vendor stations, cooks, attendants etc. You only need to walk in Kisumu for a day to realize that it becomes a more diverse city every year. Cohesion comes from appreciating what each different culture brings to the table. This will be showcased via the difference exotic foods and music that will be feature at the event. Apart from the staples from the nyanza region like Fried fish, "Aluru" (Quail), "Aliya" Dried cured fish and Peanut Sauce,you will find mutura from central and mursikh from Nandi among other Kenyan delicacies to be tasted at the event. Festivals are not uncommon In Africa. Calabar Carnival in Cross River State Nigeria is estimated to have raised over $5 million Ksh 500 million) in revenue for the state and its residents in 2011 and is expected to have doubled its growth in 2012) The taste of Kisumu Will include fun filled family events and activities that will draw in the crowds. Food The best restaurants and caterers (Must be based in Kisumu) will provide an unmatched culinary experience. Connect with
Taste of Kisumu
:
Twitter
FEED
Facebook