The First Grader begins its theatrical run in the United States on 13th May, 2011.
The First Grader
is an inspiring film, based on the true story of Kimani Maruge.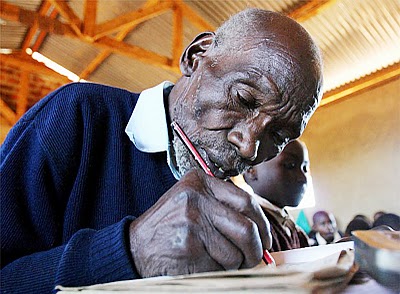 The First Grader [pic: Kimani Maruge]
The Most Inspiring Film of 2011
The film highlights the story of Kimani Maruge, Guiness World Record's
Oldest Person to Begin Primary School.
At 84 years old, former freedom fighter Kimani Maruge had not had the chance to go to school. When the Kenyan government announces free primary education, Maruge spots a chance and grabs it.
Kimani Maruge shows up at a primary schools and, walking stick in hand and persistence in heart, he wants an opportunity. The First Grader touches on Kimani Maruge's painful past and covers his inspiring journey to overcoming adversity.
The First Grader - in U.S Theaters
National Geographic Entertainment
releases
The First Grader
on 13 May 2011 in New York and Los Angeles then other cities. The film was a favorite at the
Telluride
,
Toronto
,
Doha
and Pan African film festivals. Check out when
The First Grader begins in a theater near you
.