You are never too old to learn.
This was 84-year-old class 1 pupil
Kimani Maruge
's message at the United Nations in New York back in 2005. Mzee Maruge was
the
First Grader that reminded the world, "the power is in the pen."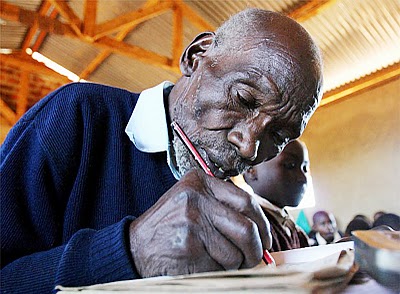 The First Grader
The Inspirational True Story of Kimani Maruge
synopsis
When the Kenyan government announces it will offer free education for all, Kimani Maruge, an eighty four (84) year old Mau Mau veteran, spots an opportunity and takes it. He gets himself to a first grade school, desperate to learn to read and write. While the old man was a Kenyan freedom fighter, he never got the chance, financially, to get an education. However, both the school administration and Maruge's tribal rivalries make his dream a cumbersome one to fulfil as no one is ready to see an old man in class with six-year old kids. One of his teachers, Jane Obinchu, starts out reluctant but eventually supports Maruge on his quest to get an education, even at the great cost of her friends and family. Kimani Maruge, while on this astounding journey, flashbacks the painful history he suffered under British colonials. The Kenyan movie roots in the timeless creed of overcoming adversity. It also inspires and motives giving a renewed appreciation for power in the basics of education; teaching and learning.
the first grader- Mzee Kimani Maruge:
Stephen Kimani Ng'ang'a Maruge
graced
the Guinness Book of Records, as the "
Oldest person to begin primary school" 
in 2004 at 84 years. Maruge's youthful vigour saw him succeed in getting a piece of freedom he fought for; literacy. His passion and determination astounded and captured the world's imagination. The story caught the eye and heart ofIsraeli/American actor Sam Feuer(Stephen Spielberg's
Munich
). Maruge's story was featured in the
Los Angeles Times
, an article that
Sam Feuer
read. Feuer was drawn by the tale and flew to Kenya to meet this Mzee Kimani Maruge at Kapkenduiywo Primary school. On meeting, Feuer with his partner Richard Harding were compelled to produce a film about the old man, and began putting the film together. Then together with
Director Justin Chadwick
and
screenwriter Ann Peacock
(Chronicles of Narnia), the movie truly came to life. On the movie, Director Chadwick says, "The main thing was that it was uplifting."
Oliver Litondo:
"
The First Grader
" attracted the attention of Hollywood legends with Morgan Freeman gunning for the lead "
Maruge
". The part ultimately went to
Kenyan
actor
Oliver Musila Litondo
("
Sheena, Queen of the Jungle
). While Morgan's presence would have been of great exposure for the film,
Litondo's anonymity is golden in giving Maruge a distinctly calm dignified presence
. The 62 year-old Harvard alumnus, Litondo, was more than glad to get a role in a Kenyan production. Even though he did not meet Maruge, Litondo pays glowing tribute to his fellow Kenyan stating, "The media underrated Maruge." Kimani Maruge, who aspired to be a Veterinary Doctor, died in August 2009 at age 90 of stomach cancer. Maruge was also a displaced victim of the Post Election Violence of 2008.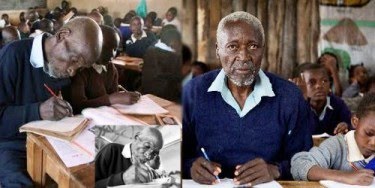 The Late Maruge Kimani (Left); Litondo on The First Grader (Right)
Oliver Litondo acts as Kimani Maruge, walking stick in hand, towering over a class of his grandchildren's peers – Mzee Kimani Maruge was in class with 2 of his 30 grandchildren. Set in urban Kenya, the film was shot locally in Ngong and many critics have nothing but praise for the 200 local children cast in the movie.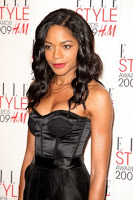 Mrs. Jane Obinchu | Naomie Harris
Jane Obinchu is Maruge's teacher, one who gets into trouble for helping the old man. Jane is played by Naomie Harris (28 Days Later, Pirates of the Caribbean), a UK based actress of Jamaican and Trinidad descent. Naomie is much younger than the character she plays but does a remarkable job. Her rich acting background gives her the edge; she plays the part exceptionally and displays, flawlessly, the sympathy and generosity of the character Jane Obinchu. Her performance is extraordinary, a Must-Watch.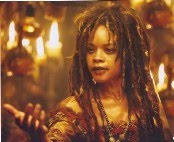 Naomie in Pirates of the Caribbean
"The First Grader" : Watch the official Trailer Here
Local Kenyan Cast in The First Grader:
Kenya's premier top comedian
Dan "Churchill" Ndambuki
introduces rich humour into "The First Grader" as DJ Masha. Also in the movie:
KTN's Michael Oyier
(newscaster),
John Sibi-Okumu
(Chairman of Education),
Mumbi Kaigwa
(Education Secretary),
Lydia Gitachu
(CNN journalist),
Ainea Ojiambo
(Education Officer),,
Abubakar Mwenda
(Boie),
Gilbert K. Lukalia
(Mr. Mutahi, a Politician),
Melvin Alusa
(Mr. Mutahi's Aide),
Charles Ouda
(Adult School Teacher). This movie is one of the best
Kenyan productions
yet.
"The First Grader" is a wonderful tribute to the Late Maruge Ng'ang'a Kimani.