Liza Mucheru-Wisner is the African face in the 10th Season of Donald Trump's TV franchise;
The Apprentice
. The Kenyan  is in the final four and well on her way to winning a first for Africa as a whole.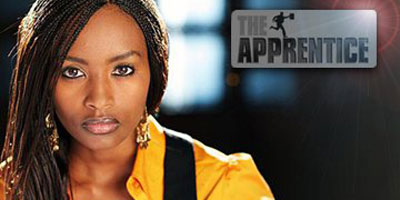 Liza Mucheru-Wisner: The Kenyan Apprentice
Liza Mucheru-Wisner is an entrepreneur, educational technologist, and speaker. She is currently a candidate on NBC's The Apprentice, Season 10. As seen on lizawisner.com
The Apprentice
is a TV show that debuted back in 2004. Contestants compete for a  mega-management slot at one of Billionaire Donald Trump's companies, in essence, to work with
Trump
. Out of 16, 1 shall become The Apprentice. Liza is in the remaining top 4, with the Final on 16th December. Three of the four will get Trump's cold "
You're Fired!
"
meet the techie
Liza Mucheru is a graduate of Texas A&M University-Corpus Christ with a B.S. in Computer Science and an M.S. in Educational Technology. She started
Texas Techies
, an award winning kids education portal.
meet the family
The other side of the savvy business owner. Liza Mucheru, 30, has been married for 6 years to Denis Wisner and they live together with
their two kids
in Corpus Christi, Texas. Liza is the daughter to Kenyan golf legend, the late, John Mucheru and wife Grace Mucheru. She is the fifth born in a family of six siblings - who reside in Kenya, except her younger sister who is in the U.S. Also worth noting is
Joseph Mucheru
, her elder brother. Joe is an iconic internet name in Africa (Created Wananchi Online back in 1999) and is the
Google
Head for
Sub-Saharan Africa
.
meet the golfer
Liza's father was one of Kenyan golfing greats. She represented Kenya at International Golf Tournaments at 17 and won a golf scholarship to Texas A&M University. She is a member of Kenya's Womens' National Golf Team. She is also belly dancer and aerobics instructor.
connect with Liza