Blogger has released another of revamp for its blogs.
Google
has just introduced new dynamic views for readers, using the latest technology to give bloggers and readers a freshly brilliant new look.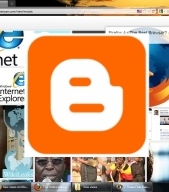 BLOGGER'S FRESH NEW LOOKS
These new feature involves
five new templates
using the latest HTML5, AJAX and CSS3 technology, to provide a look as fluid as it is breathtaking. Since, these implementations are quite new, they require a decently recent browser;
Internet Explorer
8+,
Firefox
3.5+, and other decent versions of Chrome, Safari, Opera; basically, any new browsers. The template views include:
Sidebar view
,
Timeslide view, Snapshot view, Mosaic view and Flipcard View.
On the top of the view page is a horizontal bar: with
site >
on the left, using this tab, your can click and type in another website address to view. On the right is a
Search
box
; with which you can search through your posts.
How to Get New Blogger Views for Your Blog
To get onto these views on any Blogspot site: Just enter the site url into your browser then /view. For example if it is http://googleblog.blogspot.com/ just type in: http://googleblog.blogspot.com/view
To get onto these views on any Blogger site: Just enter the site url into your browser then /view. For example if it is http://etelej.com just like with blogspot, type in: https://etelej.comview
CLICK ON THE IMAGES (below) to check the views out
Sidebar View on Blogger
Posts are listed on a neat sidebar on the left; with the selected post featured on the right. Once this posts are loaded, you can search through them, like magic. Just type in what you are looking for in the search box, and it filters through the list. It's really cool, then pick what you want, and it'll feature on the right.
Hint: You can use J and K to quick-navigate the list.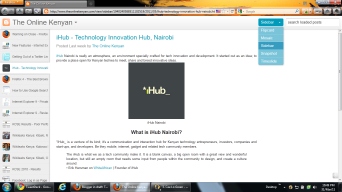 Blogger View - Sidebar
Timeslide View on Blogger
Posts are spread on three columns. The Column on the left has post titles, thumbnail images, and post snippet [posts are larger] , the middle column has post title and snippet and the right column has a list of the posts. The posts on the right have the dates posted neatly on their top-left.
Hint: When searching, relevant posts are highlighted.
Timeslide view - Blogger
Snapshot View on Blogger
This view picks posts that have images, and displays the images like a photo spread. When you hover the mouse on a photo; it displays the post snippet.
Hint: Picks all photos in the blog, not just 1 per post.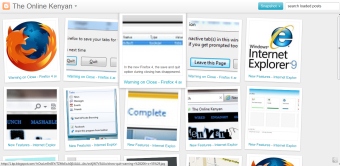 Snapshot View - Blogger
Mosaic View on Blogger
One of the more stylish of the view. Posts are cascaded on the screen, with snippets showing on mouse hover. That's not all, when you click on a post, it expands onto the screen and when you click on it again, it retracts back into the mosaic tile. On expanding a post; supports J,K,"up","down" shortcuts.
Hint: Optimized for tablet viewing along with screen rotation support.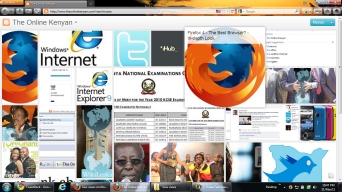 Mosaic View - Blogger
Flipcard View on Blogger
My favorite view;
it's like Snapshot, only more efficient. Displays all posts by thumbnails as if they were cards. With options at the top for arranging the posts by Recent, Date, Label, Author. Just click on an option and the posts smartly shuffle and spread by your choice. When clicking on a post you can use the J,K,"up","down" shortcuts or just press "ESC" to go Back to All Posts.
Blogger Hint: Click Sort by Labels; to get a better look at your tags.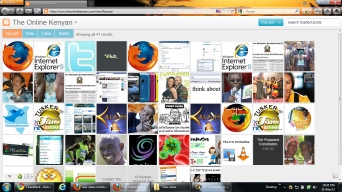 Flipcard view - Blogger
Blogger Dynamic Views (Video)