Reacting to Wikileaks, Kalonzo Musyoka quotes Philippians where it says that we should stop worrying about our past. Irony is the fact that the leaked cable reveals his image as a pretend Christian only focused on furthering his career.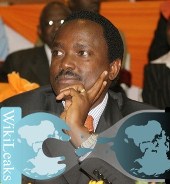 Kalonzo Musyoka: Exposed
The Kenyan Vice President is said to have approached U.S President George Bush before the 2007 polls. According to Ranneberger, Kalonzo begged George Bush to urge Kibaki to step down before the elections, apparently on grounds of "ill health". "Musyoka seriously suggested that President Bush should call Kibaki to urge him to step aside," reads the cable sent by Mr Ranneberger to his superiors in Washington.
Michael Ranneberger, US ambassador, claimed that while Kalonzo knew that there was no way he'd win the 2007 elections, he had a hidden agenda in his running for president. In the Wikileaks cable, Ranneberger says that Kalonzo was planning to spoil Raila Odinga's chances and hand the presidency to Kibaki.
The ambassador describes Mr Musyoka as an opportunist and an intellectual lightweight.
In the
Wikileaks
cable, Ranneberger unflatteringly refers to Mr Musyoka as "opportunist interested primarily in advancing his political ambitions" despite projecting himself as a born again Christian.
Read Kalonzo's, Raila's and Kibaki's response on the Wikileaks cables => [
Click Here
]
Kingmaker and Spoiler:
Mr Musyoka told Mr Ranneberger that he would focus on beating Mr Odinga in the Rift Valley on the assumption that ties between the Kalenjin and Kamba will see him carry the day. Former President Moi's armed forces chief of staff, a Kamba, was instrumental in helping Moi, a Kalenjin, put down the 1982 attempted coup which Odinga reportedly supported, the cable says.
"Kibaki will need to form a coalition government if he is elected, and I am ready to participate," Kalonzo supposedly said.
The cable says the ODM-K aspirant "offered nothing concrete, instead focusing on a litany of complaints about Kibaki and the other main presidential aspirant, Raila Odinga (ODM)". He claimed that should Mr Odinga be elected he would become "another Chavez" due to his socialist roots drawn from his study days in Eastern Germany. He was referring to Venezualan leader Hugo Chavez, who is focusing on implementing socialist reforms in his country. The reports further say that the VP said the heir-apparent of the Kikuyu community — Uhuru Kenyatta — had tentatively agreed to run as VP on a 2012 Kalonzo ticket.
"If Kenyatta has truly agreed to serve as Musyoka's running mate in 2012, this would be due to a calculation that the majority of the Kenyan electorate would not accept a Kikuyu President (Kibaki) being followed immediately by another Kikuyu President (Kenyatta), requiring Kenyatta to bide his time during a Kalonzo interregnum." - Ranneberger.
Ranneberger's dossier also shared these little tit bits of information;
Kalonzo secretly met Kibaki ahead of 2007 elections 
"Kibaki's number 2 wife, Mary Wambui, brought the Arturs to Kenya," Kalonzo
Kalonzo's political perspectives attributed to possible consumption of hard drugs
Read the whole report
here
.
"Though Musyoka is polished and glib, some astute observers consider him an intellectual lightweight. Thus far he has not presented a credible national political agenda."
The VP and Mwingi North MP expressed disgust at newspaper headlines on the Wikileaks. "The reports want to take us back to the dark days when we almost fell off the cliff. That is not the way to go." Kalonzo said.
"It is unfortunate that Ranneberger, contrary to his mission as his country's representative, has wasted his time collecting rumours and passing them off as substantive diplomatic intelligence," he said.
Sources: