Wikileaks released confidential diplomatic documents from the US Embassy in Nairobi. With over 2000 Kenyan cables in the hands of the whistle-blowing organization, Kibaki, Raila and Kalonzo are clearly not pleased.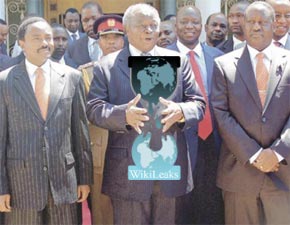 Kalonzo, Kibaki, Raila respond to Wikileaks
Mwai Kibaki [President] via Presidential Press Service
"We wish to state that President Kibaki's record on reforms through out his career speaks for itself. The Kenyan people have enjoyed unprecedented political, economic and social freedoms during his tenure in office," the (Presidential Press Service) statement said.
"Anybody criticizing the President's reform credentials needs only to examine the achievements recorded under his watch. He has helped revive institutions that were on the verge of collapse, streamlined the way government is run and the whole process of reform culminated in the endorsement of the new Constitution, which is a charter that offers the most comprehensive blueprint for institutional reform in the nation's history. The President is now trying to consolidate that record by supporting implementation of the new Constitution." Isaiya Kabira, Head of the Presidential Press. Service
"Kenyan people must not be distracted from the path of transforming our country, especially at this moment when we are focused on implementing the constitution that task will be undertaken by the Kenyan people with total support and leadership from their Government, "the statement added.
Raila Odinga [Prime Minister] via The Office of the Prime Minister
"The PM understands that US foreign policy is not made on the basis of what is contained in these cables so he isn't really paying that much attention to them. As to what the US thinks of the principals, Kenyans understand the President and the PM are much more complex than the picture being portrayed in the cables. The Principals deal with many more people and if all were to give their assessment, a picture would emerge of much more sophisticated leaders." - Dennis Onyango, communications director at the Prime Minister's Office.
"Sometimes Ranneberger speaks too much and carelessly. He lives in Kenya (but) he is a visitor. If he wants to advise us, he is free to do so but we want visitors to respect us. Mr Ranneberger is not Kenyan and Kenya is not a colony of his country!" - Raila.
"We cannot accept a visitor to come to our country to tell us he wants to bring changes, Kwani yeye ni nani. Na baba ya babu yake na babu ya baba yake ni nani na alitoka wapi katika Kenya? (Who is he? Who is the father of his grandfather and the grandfather of his father and what part of Kenya do they come from?)" - Raila.
Raila's Thoughts on Wikileaks:
The Premier also hit out at the whistleblower WikiLeaks website, saying it is a deplorable breach of certain aspects of common human decency:
"One would have expected that even with the kind of technological advancements that have made it possible to live and share in a world that is almost seamless, we are all still enjoined to acts of responsibility and restraint even when we have access to certain types of information," he said in a statement.
"One would therefore have hoped that the WikiLeaks, in spite of its philosophy and commitment to a world without any government secrets, can weigh and realise the potentially hazardous implications of reckless and unfettered release of information, especially when it has been obtained illegally. To act responsibly in such situations would not in my view, really imply that we do not subscribe to the fundamental rights and freedoms of access to information as are now widely recognised internationally and indeed affirmed in Kenya's new Constitution."
The PM admitted that "the whole saga surrounding these WikiLeaks also therefore underlie an incredibly significant development in human affairs in the world today. In particular, let it be known and appreciated by Kenyans, that in today's world, all those things that we do under the cover of darkness in the hope that they shall, so remain, unknown as 'secrets' must at some point bubble out and be known."
Kalonzo Musyoka, via The Office of the Vice President
"It is unfortunate that Amb. Ranneberger contrary to his mission as his country's representative has wasted his time in our beautiful country collecting rumours and passing them off as substantive diplomatic intelligence," said a statement from his office. "The latest WikiLeaks making wild allegations on the person of the Vice President Dr Kalonzo Musyoka should be treated with the contempt they deserve as the product of a very creative mind, whose purpose is to drive a wedge between the President and his Deputy."
"Kibaki is standing tall, strong and confident. We thank God for the President and wish him long life…so that WikiLeaks can be disgraced," Mr Musyoka said. This statement came in response to his alleged asking for the U.S to urge Kibaki to retire in 2007.
"The reports want to take us back to the dark days when we almost fell off the cliff," Mr Musyoka said, adding: "That is not the way to go." He then quoted the Bible's Philippians, Chapter 4, where Paul says we should stop worrying about our past.
Sources: